Reclaim Your Top Spot in Search Results with Our Google Penalty Recovery Services
Take back your place at the forefront of your industry and ensure that your online presence is restored to its peak performance with our proven strategies for Google penalty recovery.
Don't let a mistake derail the potential success of your business any longer – act now and reclaim control.
You probably heard of the word "Google Penalty," especially when you're doing website fixes that may seem shady. But, what is Google Penalty? Does this renowned search engine shun or ban your site from being visible on the results page? Will Google slap you with fines or penalties for performing too poorly?
Engaging in unethical SEO practices, such as keyword stuffing or link schemes, can result in a manual penalty from Google. This form of punishment is more severe than algorithmic penalties since it requires direct human intervention to enforce and cannot be resolved automatically by an algorithm.
Manual penalties are meant to serve as a warning for websites that knowingly employ black-hat tactics and will lead to the website being removed from search engine rankings entirely if not addressed quickly.
If your website exhibits any of these warning signs, it could very well be on the brink of Google's penalty list.
It is essential that you be aware of the prolonged recovery period associated with manual penalties when compared to algorithmic ones. If necessary, enlisting a professional penalty removal service can be your saving grace in restoring your website's health and well-being. With their support and guidance, getting back on track after a manual penalty becomes much more achievable.
Google utilizes complex algorithms to determine the relevance and quality of websites in their search results. When a website deviates from Google's criteria, it could be penalized algorithmically, leading to substantial losses in search engine rankings, traffic levels, and revenue generation. The most common algorithmic penalties include Panda, Penguin Hummingbird, and Pigeon- all of which have been rigorously tested by experts to ensure maximum accuracy when evaluating webpages for violations.
1. In 2011, Panda was launched as an algorithm that assesses the quality of a website. It penalizes websites with duplicate content or those containing too much marketing and not enough substance. This noteworthy algorithm is designed to reward sites providing superior information and discourage lower-quality pages from ranking high in search engine results.
2. Penguin, an algorithm created to reward websites with high-quality links and penalize those engaging in link schemes such as exchanging or buying links, was unveiled by Google back in 2012. Anchor texts that are excessively exact matches were also put under the microscope.
3. The Hummingbird algorithm, launched in 2013, revolutionized the way websites are evaluated by taking into account not just individual keywords but also contextual and semantic meaning. This advanced system prioritizes quality content as well as user experience to determine the relevance of a website's content.
4. Introduced in 2014, Pigeon revolutionized local search results with its highly sophisticated algorithm. This efficient system measures the relation and closeness of business listings to users' searches, making it easier than ever for people to find exactly what they're looking for.
Has Google
Penalized

Your Website?
Google penalties can be intimidating, but they don't have to be if you understand what causes them, how to avoid them, and how to resolve them. Keep in mind that engaging in unethical SEO practices will lead to swift and severe consequences, so it's always best to keep your website in compliance with Google's webmaster guidelines.
Any of these can be attributed to manual or algorithmic penalties and it's time to get started with penalty recovery. Assess your website to determine if you have been hit by a Google penalty. Keep an eye out for:
Don't let a single mistake or violation jeopardize your website's visibility – act now to recover and bounce back. By enlisting the help of an experienced penalty removal service, you can promptly revive your site and reclaim its prior glory. Don't wait any longer – make sure you take the necessary steps for recovery today!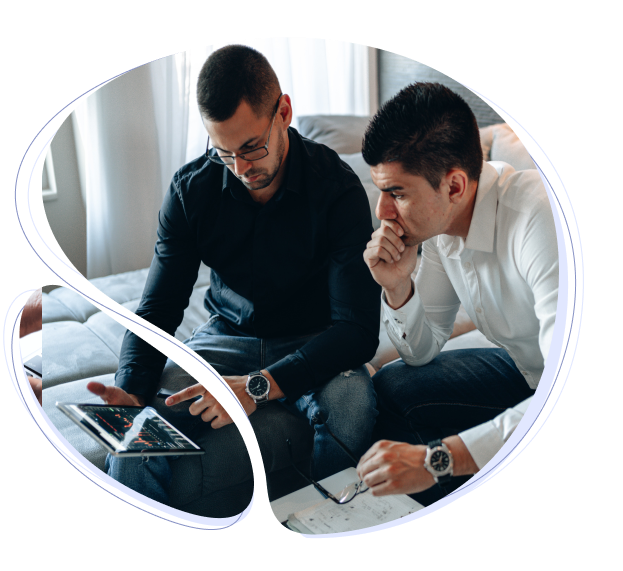 Bounce Back from Lost Rankings
Google penalties can be a devastating blow to your website traffic and profitability and they can cause your website to lose ranking and visibility overnight. If your website has been penalized, you may have noticed a significant traffic drop in Google search engine rankings, traffic, and revenue.
A Google penalty can be the result of something as simple as low-quality links, thin content, or just manual intervention from Google itself. In either case, it is vital that you act quickly to have the penalty revoked and begin the process of regaining your rankings.
Permanently Eliminate the Risks of Penalties
Google penalty recovery is about far more than merely restoring your original rankings. It's all about identifying the root cause of the punishment, rectifying it accordingly, and protecting yourself from a repeat occurrence in the future.
To do this, check Google Search Console (formerly Google Webmaster Tools)first, then implement optimized web pages, build a solid backlink profile, ensure that any content produced is of quality standard and free from plagiarism, and prevent user-generated spam.
Take Control of Your Website
Google penalties can be a major roadblock to the prosperity of your website. Penalties may arise from a range of sources, such as unethical SEO methods, diminished content quality, or technical problems.
We understand that having your website penalized by Google is a stressful experience and it can get tough to get back on track. The good news is you can now take control of your website with our google penalty recovery services.
Take Action Today Before It's Too Late!
Don't let your website's ranking suffer – if you fear that Google has penalized your website, contact us now for help! Our team of professionals will provide the insight and guidance necessary to recover from lost rankings and get back onto search engine results pages. Don't wait until it's too late; take action today so you can ensure a strong web presence tomorrow.
Google Penalty Recovery Services
We want to bring your website back into a state of top-notch health, guaranteeing dependable and enduring success with SEO rankings, web traffic numbers, and revenue. That's why we are here – to take the guesswork out of this tricky process!
With our Google penalty recovery services, you can expect:
A comprehensive analysis of the cause of your penalty

Implementation of ethical and effective recovery strategies

On-going support and monitoring to ensure long-term success

Increased visibility and traffic to your website

Boosted revenue and online success
Reviving Your
Website Reputation

with Our Proven Process
It isn't easy winning Google's attention again, but, still, it's possible. If you need to fix your site from Google penalties. With our Google penalty recovery services, you can be confident that your website can regain its former status and rankings.
Partner with the Best in Google
Penalty Recovery
PurpleCow Digital Marketing
Don't Let a
Google Penalty

Keep You Down
Rebound from lost rankings and experience the benefits of a penalty-free website with our expert penalty recovery services. Our team is here to provide you with the expertise and guidance needed to reclaim your rankings and get back on top.
Contact us today to get started on the road to recovery.
What is a Google penalty?
A Google penalty is a punitive action taken by Google against a website or web page for violating its Webmaster Guidelines. The penalty can be either manual, which means that it was initiated manually by search engine employees; or algorithmic, where Google algorithms detected the violation and enforced the penalty automatically.
Google penalties are designed to reduce the visibility of websites that violate its Webmaster Guidelines, usually by lowering their ranking in the search engine results pages (SERPs).
What happens when you're hit by a Google penalty?
Getting slapped with a Google Penalty means you'll earn fewer web visitors due to your ranks getting dropped dramatically. Sometimes, you won't be even listed on search results pages! When your site gets a Google penalty, your customers won't be able to find you.
Why is Google penalizing my site?
There are a number of reasons why Google might be penalizing your site, including:
Duplicate content

Low-quality content

Cloaking or sneaky redirects

Unnatural links from other websites

Poorly implemented website design

Unoptimized page titles and meta tag
How do I recover from a Google penalty?
The key to recovering from a Google penalty is to identify and fix the issue causing it, as well as take preventive measures to avoid future penalties. Depending on the type and severity of the penalty, this could include removing low-quality or duplicate content from your site, disavowing unnatural links from other websites, optimizing page titles and meta tags to improve readability, and more. Additionally, it's important to keep up with Google's Webmaster Guidelines to ensure that your website remains compliant. By following these steps, you should be able to successfully recover from a Google penalty and get your rankings back on track.
How do I know if my website has been penalized?
The first step is to examine your site's analytics data to see if there is a significant drop in organic traffic or rankings for certain keywords. If your site has indeed been affected, you can check with Google Search Console to see if any manual action penalties have been issued against your website. Additionally, you can run an SEO audit on your website to identify technical. issues that may be causing the penalty.
How long does it take to recover from the Google penalty?
The length of time it takes to recover from a Google penalty can vary depending on the type and severity of the violation. Generally, manual penalties tend to take longer to recover from since there is usually much more corrective action required before the penalty is removed. Algorithmic penalties usually take less time, but this also depends on how quickly you identify and fix the issues causing the penalty. In any case, it's important to be patient and take corrective action as soon as possible to avoid further penalties from Google.
How much does it cost to recover from a Google penalty?
Recovering from a Google penalty can cost anywhere from a few hundred dollars to several thousand. The exact amount depends on the complexity of the violation and how much work is needed to correct it. Additionally, you may need to hire an experienced SEO specialist or agency for consultation and assistance in determining the issue and recovering from the penalty. It's important to note that penalties can have a significant impact on your website's traffic and revenue, so it's best to take corrective action as soon as possible to avoid any further damage.
What penalties are imposed by Google?
While it's not a penalty, Google's search algorithm will filter out websites that don't meet Google's standards. They are much more likely to reward sites that meet their standards. But, it's almost similar to a penalty since you won't be raking much of the traffic and site visitors.
Is it possible to recover from a manual Google penalty?
Manual penalties are one of the worst things that can happen to a website. It can cause tremendous harm, resulting in significant drops in search engine rankings and traffic, as well as an immediate decline in revenue. To recover from this penalty, it is essential to first figure out what caused it and then take action accordingly: delete or fix any objectionable content on your site; boost its overall quality; adhere strictly to SEO guidelines set forth by Google. Doing all these steps correctly will help you get back online soon.
How can I permanently avoid Google penalties?
By adhering to Google's guidelines, you can maintain a website that is in compliance with its standards and avoid receiving penalties. To permanently avoid Google penalties, follow these best practices:
Produce high-quality, original content.

Use white hat SEO techniques only.

Avoid using excessive keyword stuffing, hidden text, or links.

Don't participate in link schemes or purchase links.

Maintain a healthy backlink profile.

Stay away from spammy or low-quality websites.

Regularly monitor your website for technical issues.

Follow Google's webmaster guidelines.

Keep your website's design and user experience user-friendly.

Continuously evaluate and improve your website's content and technical SEO