Have you heard what is on the news today, Webmasters? Google will be rolling out its Google December 2020 core update to the algorithm in a few weeks. While the giant search engine has launched its update today, one can wonder how websites will be affected two to three weeks from now. SE Roundtable has reported some bigger movement in Google December 2020 core update. If you'd like to know how the Google December 2020 core update may affect your website, read on!
This is the third core update for 2020 as Google rolled out its first in January 2020 then on May 2020. It's been seven months since the last rollout. SearchEngine Journal has warned against panic, but to continue to look at your content quality. Webmasters can only think whether the global health crisis took a toll on it as well. Ibexa indicates that Google December 2020 core update is still a guessing game at this stage.
Here at PurpleCow Digital Marketing we will continue to monitor and will report what we notice over the coming weeks. But we will note that Accuranker has reported Google's mood as GRUMPY yesterday.
All about Google December 2020 Core Update
Google releases a couple of changes and updates to its search results every day, but they're mostly minuscule and aren't noticeable. Noticeable updates such as the core algorithms, mobile-friendly websites, Google Panda and Penguin, and BERT, will need advanced notice and to webmasters, site owners, or content creators. Google December 2020 core update is not as dramatic as these, however you should keep an eye on ranking movements. Google has confirmed the changes will be rolled out from December 3, 2020.
Core updates are significant changes to the search algorithm for Google to display important, relevant, and authoritative results to users. Some websites may find drops or improvement in their ranking, but then again, Google is searching for quality content. Google December 2020 core update is addressing these issues to give a better user experience.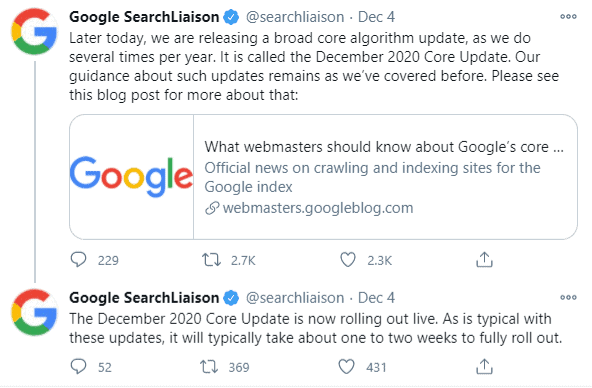 It's not about de-ranking you
Many site owners have gone vexed in mayhem due to the possible effects of the algorithm – like de-ranking. The truth is, Google is simply fixing up its system while assessing one's content overall. Besides, this will push webmasters to continually develop quality content and healthy search engine optimization practices. Google December 2020 core update will be the final big change for the year.
According to Google Developers, they likened the core updates to a list of Top 100. Every few years, new sites are coming in and some webmasters are continually doing their best to improve content quality and search optimization. There will be new sites favourable to be on top for SERPS inclusion.
The question is: what about yours? Are you continually improving your site for visitors and search engines alike?
Sites that have been negatively impacted by the core updates should take it as a message to improve their site. Those webmasters with quality content sites may see little difference after the core update. However, some have experienced an increase in visibility and web visits with users. As with all updates, Google December 2020 core update may create a bit of movement to your rankings at first, but will settle in the following weeks.
Focus on quality content and healthy SEO practices
Webmasters who want to do something for their pages after the update may focus on creating quality content and integrate SEO practices. Core updates often incite panic and concern in the community, but that shouldn't be so. While many may feel despondent after the results came in, here's what you need to do to get into Google's good graces again.
Content should be original, complete, and insightful analysis of the topic
Content should be knowledgeable and should provide a comprehensive view of the topic on hand. Content creators – whether bloggers, filmmakers, or streamers – should make their subject matter holistically and interesting enough to generate shares.
Avoid duplicate content if necessary
If you find duplicate content over the subject matter, avoid copying it as much as you can. Instead, provide value and additional information over the content itself. Press releases are often the subject of duplicate content. If you can snag additional information on the article, then why not go ahead with it?
The headline or title shouldn't be confusing
Google doesn't like it when you click-bait its bot crawlers. Even readers don't like it when you publish content under a different title. It'll de-rank your website faster than you say, "Google me!" So, avoid creating headlines and titles that are plain confusing.
Make it shareable
Google would love to see content that has been shared all over again. Because, to search engines, that could only mean: it's quality-made, interesting, and informative to be shared by everyone. That's why Google loves content that's meant to be shared by viewers.
Edit and revise content for spelling and grammar issues
Your users will know if the article has been produced well and free from errors. Always make sure to edit and revise your articles, photos, or videos for any blunders to ensure that your content is faulty-free.
Optimize your content for search engines
When creating articles, you practice good on-page, technical, and off-page SEO techniques for search engines. That is, without being too messy for readers, as well. Moreover, optimising images and videos online will help viewers discover you on SERPs. Mobile-friendliness is also crucial. Mobile searches are far more frequent and have a much higher conversion rate. Call to action on mobile searches are also significantly more effective.
Keep in mind that up to 20% of the 3.5 billion daily searches on Google are concentrated on front page results. This means that SEO, as a strategy in its entirety, is a key feature for optimising your website.
Are you ready for the May 2021 update?
A little while ago, Google has announced its Core Web Vitals and Page Experience update that will roll out in May 2021. With six months away from the big change, this gives us ample time to improve our website pertinence to Google's standards. Google December 2020 is taking a couple of steps to move in the direction of a better page experience for searchers.
What are the core web vitals you need to integrate for the long run? That includes:
Largest Content Paint (LCP). Google made it clear that page speed would impact your website SEO. It has a direct influence on your user's experience. If your customers wait too long for the page to load, most likely they'll abandon your website and possibly cost you a loss of revenue. What's more, a slow page load will be down-ranked by search engines. This is why optimizing speed for your website is critical for SEO.
First Input Delay (FID). How well do people interact with your website? Is your content interesting and informative to readers – enough to be shareable? How easy is it for users to interact with your site? Are the elements and clickable links in place? Your FID should be around 100ms.
Cumulative Layout Shift (CLS). Google's metric wants you to have a CLS of 0.1 seconds for its stability requirement. Are all of your elements working properly? Will the user be directed to the page with one click of a button?
Google has given us the heads up. It is advised to take Google's announcement seriously and ensure your site is compliant by May 2021 or you may be a bit hit in your SEO rankings.
What Now?
Google December 2020 core update should be kept in mind as you improve your SEO, but if you are following best practices, it won't be a problem.
At PurpleCow Digital Marketing we produce articles around Google algorithm updates regularly. We are experts in SEO and following best practices for SEO and monitoring updates and trend like Google December 2020 core update is vital to ensure the best results for our clients and students.
If you'd like to stay informed, please join our newsletter list here.
If you'd like to enquire about working with us please send us an email.
Or if you would like to learn more about SEO, join our course, SEO Rockstars here.