Google Suspended Request Indexing Feature While It Has Indexing Issues
The backbone to SEO is Google's indexing. SEO professionals know of the feature where we can 'Request Indexing' for a URL. But right now it is greyed out and not available. Since Google suspended 'Request Indexing' feature, we cannot use this function.
It was announced on 15th October that Google suspended 'Request Indexing' feature while it has indexing issues.
Google has announced that it has 'temporarily' disabled the "Request Indexing" feature of the URL Inspection Tool. Google didn't say why it has disabled the feature other than saying it is due to some infrastructure changes.
Google announced on Twitter "We have disabled the "Request Indexing" feature of the URL Inspection Tool". The added that they expect it to return in the coming weeks. And that the will continue to find & index content through their regular methods.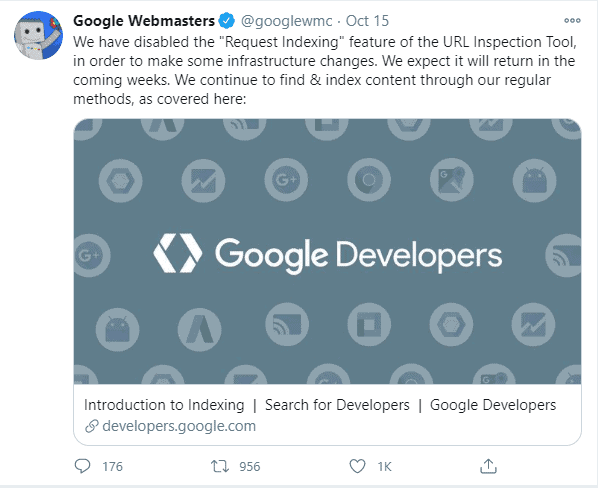 Many people may not actually use or know of this feature, but being a developer and SEO professional, this is definitely a feature we are currently missing in the SEO industry.
@JohnMu has tweeted "Just for context, this does not affect normal crawling and indexing. In general, sites never use this feature (and most have never used it at all)."
The original tweet went out on Oct 15 2020, but to date the issue is not fixed. Lets hope they can bring it back soon, as some of us use this very regularly.
Google suggests heading to their page "Introduction to Indexing" to learn more about indexing.
We will release an update here when there is a change to Google suspending request indexing feature issue.
What is the Request Indexing feature used for?
The request Indexing feature is most commonly used when a site owner or SEP professional makes a change to a page and wants to speed up the process of of Google adding the new content to its search index. Since Google suspended 'Request Indexing' feature, we now need to simply wait for the automated process.
Even when it is working, it is not good to over use the function and cannot guarantee that it will be indexed any sooner, or even at all.
Want to Know More About SEO?
If you want to continue learning more about SEO, head to our SEO Rockstars course. We are SEO Specialists and we would love to help you learn more to get better visibility for your website.
Knowing exactly where your website is performing well and not so well, is the first step to making improvements and making an SEO Strategy. Use our Free SEO audit to see where you can make some improvements.
Where to learn more about Google Suspended Request Indexing
Round Up
It seems that the feature should be expected back in a few weeks. And with the associated infrastructure upgrade we hope our Google machine will be running like clockwork again. Website owners and SEO professionals will be very keen to see the lift on Google disabling the Request Index feature so we can all go back to our regular routine.
The biggest take aways are:
that the automatic indexing via crawlers are still happening
Follow https://twitter.com/googlewmc to ensure you see the latest updates
ensuring your content is relevant to our audience is key
SEO is an ever evolving space, so it is really exciting to see what the next instalment will be
Continue to keep your website optimised
Continue to follow the regular SEO best practices and you will continue to rank
Feel free to contact us at st******@pu*******.digital for your website and SEO needs.