For tradies and auto repair shops, vehicle inspections are quite complicated especially if it has been riddled with state or territory legislation. In Australia, each state has its own laws pertaining to car safety and inspection.
This inspection covers not only the quality of a vehicle's parts, but the total requirements of owning one like auto insurances; licenses and contracts; and, passenger, road, and environmental safety.
In general, vehicle inspection happens every two years. For older cars, state regulations made it clear to have your car checked every 12 months.
The answer? Get yourself to Google My Business, so your customer can map when they need help? Why?
Google My Business
Google My Business is an online tool to help customers find local businesses near them. In a word – you should be there and get listed too. It's one of the greatest SEO factors to consider if you want your customers to find you in search engines.
When a customer searches for a company with a keyword like "auto repair shops near me," Google will provide a results box with all auto repair shops and their info such as location, opening hours, photos, and reviews from other customers.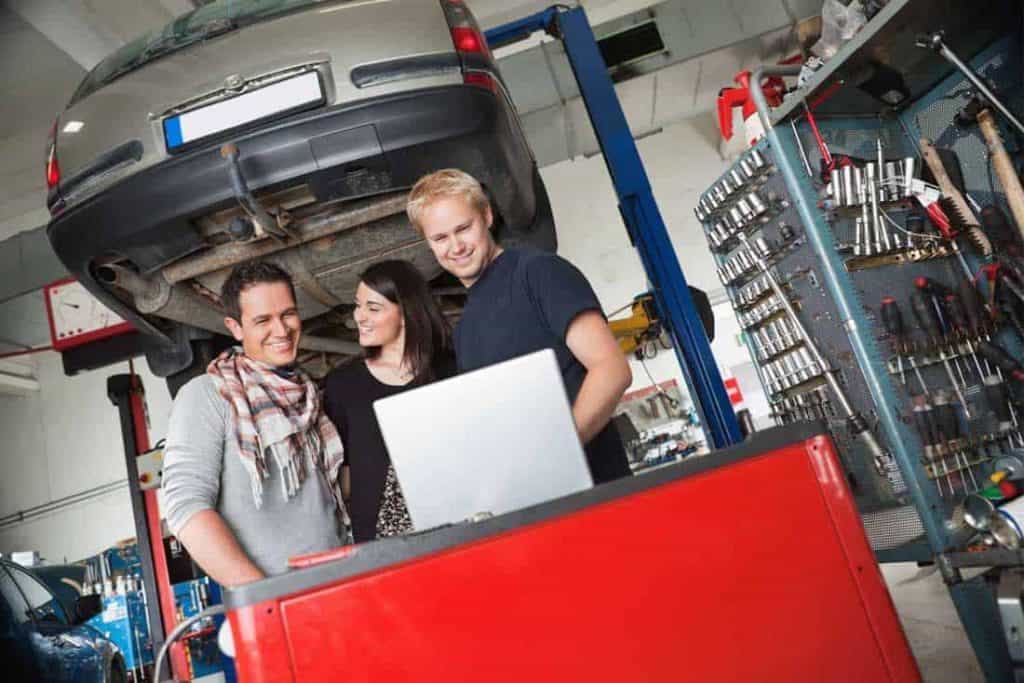 Tips to get you started for your auto repair shops
Have you claimed your Google My Business listing yet? Well, you should. That's the first step in improving your business' seo. If you want to know more about optimizing your GMB, here's how:
Complete, accurate description of your company
Claim a listing with your business on it. Choose the correct category for your company and add as much information about your business. Remember, you can add your phone number, opening times, and services provided.
Add photos
Adding photos is a great way to boost the credibility of your business. How can visitors trust you if they can't see your products, team, or venue? Optimize the images' name with appropriate keywords and alt name txt to it, too.
Write short posts
Google My Business adds a short post where businesses can write down everything about their companies. Regular postings about your business will let people see that you're active enough to care about their concerns. Remember to add relevant keywords to the posts too!
Welcome reviews
Let customers leave reviews about your business. Even if it's a bad one, always respond to them that you're going to do better next time. Google loves a business with good reviews. Don't you know why? They rank higher.
Provide FAQ
Provide questions for your business so that customers will have an idea of how your company runs. You can even answer your visitors' questions by providing details about the business. Fast replies are often seen as a good sign according to the customers.
Australian legislations
Australian Capital Territory
Those living in Melbourne, Brisbane, Canberra, or in the Australian Capital Territory, must know of the inspection schemes that can come rather randomly. For example –
When you register a new vehicle for the first time, the car gets inspected by the manufacturer or dealer.
If you're planning to move into another state and transfer your registration from the interstate, you also need to have your vehicle inspected despite the car's age.
If there's a need to transfer ownership of a vehicle of over six years old, you might also want to have the car get inspected.
For defect notices, a vehicle owner will have to make repairs and full inspection from licensed, professional auto repair shops to clear the notice within 14 days. Meanwhile, if safety violations are found, the car would have to be inspected on the spot and towed if possible.
Lastly, those vehicles using propane or natural gas should have the car inspected annually.
New South Wales
In Sydney and the Central Coast, and all over NSW, light vehicles of over five years should be inspected before one can renew the registration. If you have an exceptional case of a point to point transportation, you must have at least a safety check of once a year.
Check inspection reports are valid for six months. When you fail to finish them, your authorized inspection scheme station will provide you with a repairs report that you have to comply within 14 days.
But what about vehicles not registered within NSW? Car owners must have an authorized unregistered vehicle inspection scheme (AUVIS). The AUVIS is required if you want to have your vehicle registered from another state, when your registration expired more than three months ago, no number plates, vehicle customization, and clearance of defect notices.
Northern Territory
Darwins, Palmerston, Alice Springs or Centralians in general, will need their motor vehicles inspected once they reach five to 10 years, then annually if above 10 years of age.
Trailers from 500k tare and that 750kg ATM of five years and 10 will need roadworthy inspection. If the vehicle is more than 10 years, then it needs to be inspected annually.
All commercial passenger vehicles like taxis, limos, or minibuses should be inspected for roadworthy compliances.
Queensland
In Queensland, there are no periodic inspections once a vehicle got registered. Most safety inspections and random emissions come off randomly. However, it is necessary to have a safety inspection and safety certificate if the vehicle is being put up for sale.
The certificate is valid for three months or 1,000 km, whichever comes first. Sellers who have failed to procure a safety certificate are fined with a hefty $500.
South Australia
While inspections are a bit lax, vehicles with modifications need to be inspected thoroughly for certification of roadworthiness. Additionally, inspections are done when –
Police find faulty safety precautions
They're salvaged vehicles used on the road
These vehicles are self-made
Cars are transferred from interstate and are seven years old, weighing 10,000 pounds
Commercial vehicles like buses that hold 13 or more people
Tasmania
In Tasmania, safety inspection calls when there's a transfer of the vehicle from the interstate. Also, re-registering your vehicle after it becomes expired or written off and repaired will need an inspection from auto repair shops.
Victoria
Victoria safety inspections are similar to Queensland's. Vehicles being sold or having defects will require a certificate of roadworthiness. However, you don't need to have an inspection done for an interstate transfer if the vehicle remains with the same owner.
Western Australia
Inspection is required before one can register a vehicle for the first time. If the car also received some modifications, it needs to be inspected as well. Those with safety faults are required to visit their licensed inspector for repairs and reports.
All commercial public vehicles are required by law to obtain a certificate as well.