You've probably heard of virtual exercise classes long before the quarantine for the novel coronavirus – 2019 (COVID-19) started. Gyms, pilates studios, yoga studios, etc. are running virtual exercise classes online via a membership platform in providing the public in-home exercises to maintain their healthy lifestyle.
It's nothing new actually, but due to the COVID-19 crisis, it's highly becoming the next big thing. Back in the 80s or 90s, many of us have viewed home exercise videos via the television or video rentals. It's a trend that continues up to this day where fitness trainers turn to other channels (like YouTube and Facebook) to air exercises everybody can follow at home.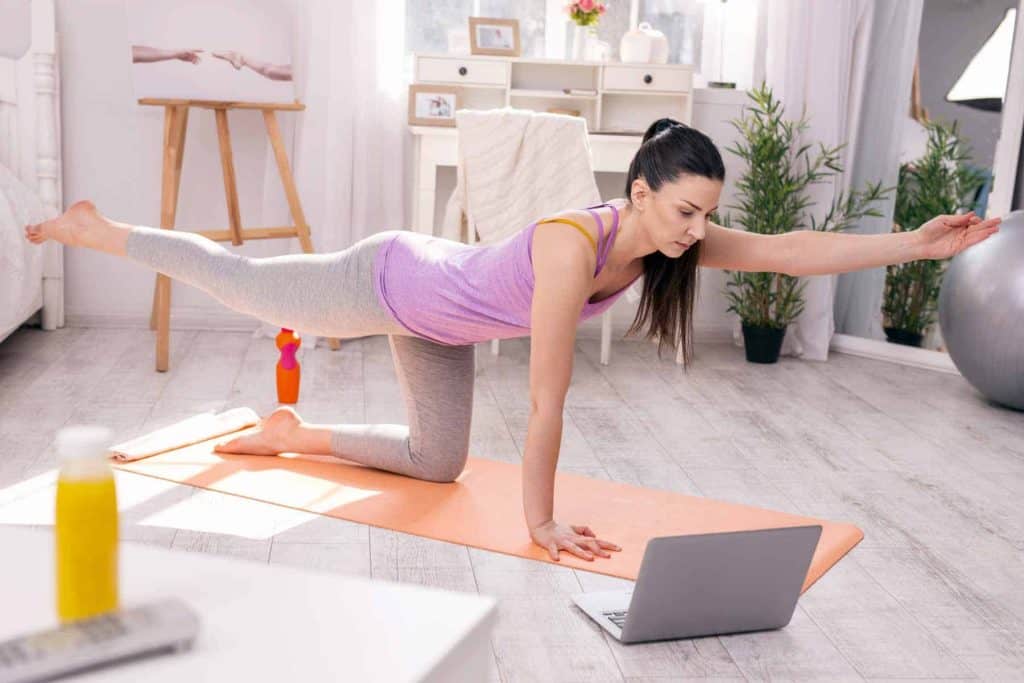 Benefits on virtual exercise classes
The move of the fitness industry to offer exercise, diet, yoga, meditation, and other wellness services in digital platforms isn't restricted to big industry players. Health apps are often created by indie or small business owners to achieve a greater reach in audience.
Now, Fit Member Websites makes it easier for gyms and fitness trainers to offer their own interactive sessions. According to Les Mills, a New Zealand-based choreographer of exercises, about 82% of usual gym goers now exercise at home. Meanwhile, about 63% use apps or streaming channels.
Do virtual exercise classes work for you? Let's see here below.
For Virtual Users
Now that social distancing is the new norm, people turn to apps and virtual exercise classes to keep themselves fit during quarantine. Here's why users turn to fitness online.
Comfort and convenience
Let's face it. Some of your customers will feel intimidated upon going to your class or they don't have the time for it. Now, when they get virtually with you, they're doing it at the comfort of their homes and at their preferred time. Your clients can't go to the gym due to quarantine but you can still connect with them virtually.
Customization and accessibility
You can choose hundreds of classes that are conducive to your fitness level. What's more, virtual exercise classes let you choose which fitness trainer you want to have and how much your budget can afford for your training. Moreover, you can access worldwide trainers who offer health services suitable to your ways.
Affordable
Virtual exercise classes are opt to be affordable and favorable to your clients' needs. Whether they choose live or prerecorded courses, the cost is generally affordable. Usually it starts around $2.99 to $49 a month.
For gyms, pilates studios, yoga studios
As gyms and fitness studios close around the country, small business owners or fitness instructors turn to ways to break new grounds against the quarantine. They hopped on the trend where the fitness industry goes online. Will you join them, too?
Safeguard the business
You get to protect your business and employees from total closure during these trying times. Adapting to the "new normal" will safeguard your business and employees.
Reach more users
Launching virtual exercise classes does not limit you to your usual clientele. Perchance someone outside of Australia will purchase your courses and become a brand follower later on. How about that? Online sessions and personal coaching can be done so your customers could get to continue their fitness journey.
Variety of classes offered
Classes can be live or prerecorded (with rates usually lower when prerecorded). This allows flexibility among trainers who are looking for a more organized schedule. Meanwhile, other studios are tapping into ebooks, diet books, recipe books, and course plans to further provide service to the public.
Why virtual exercise classes need a membership site?
Just like a regular membership with monthly plans and packages, membership platforms serve the same where users can join in for what you're providing. With online membership sites, fitness studios can provide live or prerecorded videos, one-on-one training, lectures, articles and checklists, e-books, and more.
Your clients will also appreciate their membership because it helps ease their lives, and provides them more information about on how to get fit than the usual free online material.
Advantages of virtual exercise classes with membership sites
If you think you'll lose more income than those who are providing free trainings online, think again!
Steady earnings. Monthly membership plans allows you to have a steady stream of income. You can even customize your subscription plans to an annual billing or so.
Reach wider audience. If you only serve people within the Gold Coast area, then prepare to have your fitness studio open up to the world!
Offers flexibility among trainers and clients. Perchance your clients want a prerecorded workout session, fitness checklist, or a diet plan only? You get to free your time to build up one-on-one fitness training with other clients.
Builds loyal customers. What's the easiest way to know you have a loyal customer? They keep purchasing a membership plan! They must have liked your work so much.
Convenience in automation. Payment options can be daunting and can mount up to added work. Luckily, social online payments made it easier for you to track, record, and receive one from clients.
The new norm?
Now that we're facing a global crisis, countless fitness studios are temporarily closing to curb the disease. Now, this led to the rise of virtual exercise classes usual gym-goers can streaming during quarantine.
Remember, the fitness industry in Australia is poised to earn about $2.4 billion before 2023. The sudden resurgence of virtual exercises can bring that figure up. When Aussies fitness trainers go virtual, they'd be earning from overseas viewers and users as well.
Now, the question for local fitness studios is this: are you online also? Most online fitness videos are done via a membership platform. If you have any questions in creating one for yourself, don't hesitate to contact us at [email protected]