Upon launching a business, the firm is keen to keep revenue, attract high-paying clients, and maintain them for the long-term. For the first few months, business owners tend not to be too finicky on who their clients are, but what if we're going to say, you can choose to attract high-paying clients upfront?
Let's interview one business owner – Lisa. Lisa was a freelance copyeditor for small business owners before starting her writing and publishing business. When she launched her career, why is it that she snagged some of the best clientele in town – the publishers, writers, and authors? Was it her connections, workmanship, or marketing strategy?
Many business owners lament over clients who demand more work, discounts, and pressures on their trade. For instance, creative entrepreneurs often feel the burnout over clients who refuse to pay their worth.
So, how to get higher-end clients who see your value and respect your business enough to become loyal customers? In time, they become your greatest marketing tool, social proof, and walking testimonial of how glowing your business is.
You can attract high-paying clients even when you're just launching your first business. It will require effort and commitment from your end, but you will reap the rewards of earning high returns. Here are tips to attract high-paying clients and win them over again.
7 ways to attract high-paying clients
Many business owners want to attract high-paying clients but are usually afraid of putting up their fees upfront or defend their work ethics. This move proves to be disastrous as clients often find a way of niggling or tricking entrepreneurs.
Now, how to package your business to entice bigger clientele?
1. Know your business, unique selling proposition, worth, and value
Don't beg for clients. Instead, let them beg to work with you. For example, when Lisa's work proves to be overwhelming, she takes a week worth of break from transactions.
To some businesses, this may seem a huge loss of opportunity for clients to walk-in during that period. Most customers would walk out and take up their transaction elsewhere over a business that's out for a small vacation.
So, what about Lisa? Some of her clients were willing to wait over a week and until she comes back from the office. Was Lisa that valuable that her customers are willing to wait for her?
Know your business
Have you studied your business, niche, or industry? Do you have a lot of competitors? First, you need to know what your business is and how it can help your community. Here's a simple list where you need to get clear of:
Your company's mission and vision
Goals and objectives
Employee morale and productivity (even if it's just you!)
Products and services
Daily operations
Marketing strategies
There are a lot of factors you need to study for your business. These are simply a few to consider. You can also jot down a SWOT (strengths, weakness, opportunities, and threats) analysis of your business.
What are your unique selling propositions?
Define what sets you apart from your competitors. That's called a unique selling proposition (USP) which creates a strong image, branding, and foundation for your marketing strategies and operational activities. Your USP what matters most to attract high-paying clients.
How can you find your own? Startup founders often ponder what they can offer to customers without losing their branding. You should write down your USP on a business paper or marketing plan. It helps reinforce the idea of your online strategies. What's more, placing this on the front of your website will let users understand your company.
Questions to ask yourself:
What can I offer to my customers?
What makes your product unique?
What benefits your customers the most?
How can you deliver that product?
How can you solve the problems of your customers?
What motivates people to buy your products over your competitors?
Understanding your value proposition can increase brand awareness and boost marketing strategies. It's a compelling way to recognize your business system and act on it.
What's your worth and value?
Value and worth are two terms often used interchangeably. However, the words have different meanings. So, what's your worth and value? To define, the worth is the rate or selling price of your products and services. Meanwhile, value has more emotional, professional, and usually, no monetary worth attached to it.
For example, the worth of services for customized web design in the industry is $1,000. However, the quality, design framework, professionalism, and web add-ons of your web design are different from the rest, so, you charge $1,200.
Who knows? Part of the rate is composed of SEO-optimized pages, free 10 blog posts, social network page maker, etc. A top from the obvious offers, perhaps what differentiates you from the rest is your experience, slick professionalism, time-bound delivery, communication with buyers, etc.
Your worth might be affected by the industry prices and rates, but it's your value that puts the prices on end – whether it's lower or higher than the standard rates. If you deliver a product or service that balances your worth and value, then you can attract high-paying clients.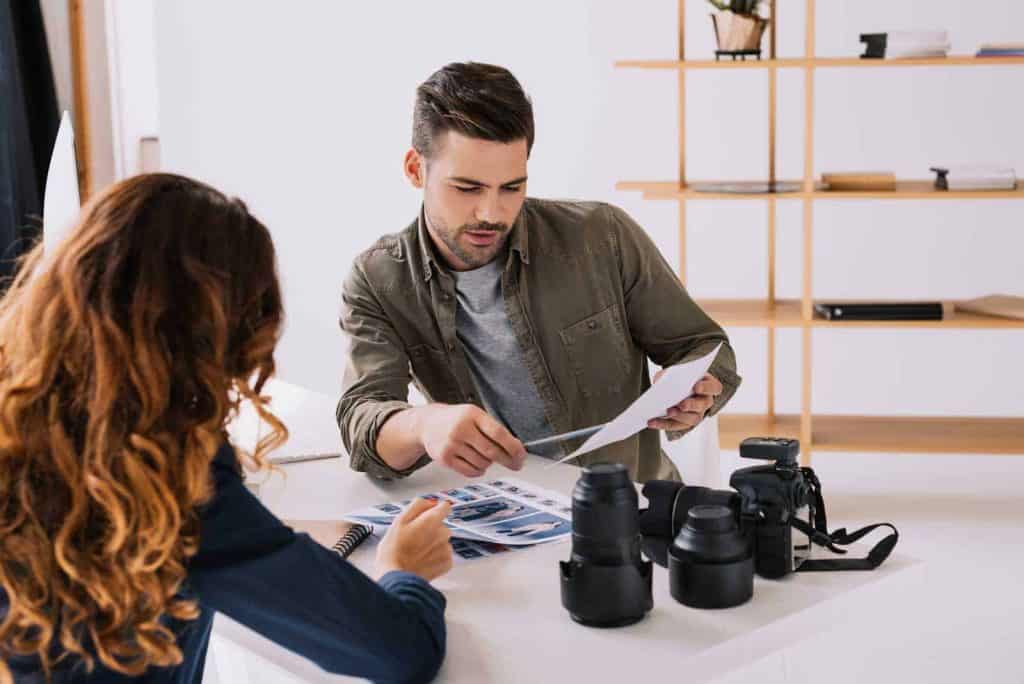 2. Put your portfolio out there
One of the best ways clients can gauge your worth is by looking at your portfolio. They need to see what you've worked so far and what past clients are saying about you. Portfolios are a great way to showcases your work and skills. Attractive workmanship and portfolio often attract high-paying clients.
It'll be confusing at first to create one, but it's necessary to prep you for wowing clients. So, how to start building one?
Websites. Your business website is the best platform to showcase your past works. Add what your past clients are saying about you!
Create social media pages of your business. Put yourself on LinkedIn, Twitter, or Facebook and publish relevant posts of your work, company, or industry updates.
Third-party Sites. Third-party sites such as Behance, Contently, or Folio, serve as additional platforms to showcase your works.
Business directory listings. You can even list your previous works at some business listings as well. we heard Google My Business is an awesome place to connect with the community as well.
But, what do you put in a portfolio? Things that demonstrate your abilities such as work, certificates, awards, testimonials, or performance review will serve best in a portfolio review.
3. Give something for free or at a discount
You can attract high-paying clients with freebies or discounts from time to time – that way, they can save more money when purchasing from you! When giving them discounts or freebies, make sure that you're not working yourself to death or go overboard with your value. Make sure to weigh in whether you have returned even with freebies or discounts.
Here are the free things you can give to your clientele.
Industry e-book
Free check-up or assessment
Company merchandise for brand awareness
Digital resources
Coupon codes and discounts
Special sale
Host community meetings or charitable drives
Implementing a freebie or discount strategy should be enough to cover your monthly revenue. While it's a good way to attract clients and retain them, a continuous implementation might ruin your business. Try offering these perks for a limited time only.
4. Demonstrate results and workmanship
If there's one way to wow and attract high-paying clients and keep them from coming back is to work professionally, efficiently, and effectively. By showing your prowess, clients would pay you even more. So, how to work hard and smart?
Have a systematic order or work routine with your client. For instance, your communications channels should be during work hours to avoid burnout. But, likewise, it's also critical to open and stretch your lines beyond working hours if you're capable.


Keep the client at bay with regular schedules and budget preparation. What have you done so far? Keep your client updated with how you're going through and ask questions if necessary. You don't have to update your client every hour or every day. Set budget preparations if necessary to keep track of the work at hand.


Work effectively. Focus on bringing out your client's mission both aesthetically and functionality. Focus on the most important tasks and do away with the distraction. It's okay to get inspiration from the web, but don't get caught staring or strolling too much!


Present the work at hand and ask for feedback upon submission. When presenting the work to the client, you may present the features f the product at hand. Just don't try to sound excuse-y or venting over the process. Try asking for feedback such as what can be improved.


Accept feedback and ask for reviews. Have you received your feedback now? Thank your customer profusely and ask for reviews if possible. You can choose to publicize these reviews on your site or other third-party listings.
If you're launching a new business, attract high-paying clients with your abilities, communication skills, and work ethics.
5. Offer social proof
Social proof is an effective marketing strategy to boost sales and earn loyal customers. It's a phenomenon known as informational social influence where people are easily swayed with the actions of others, thus, following the same actions.
Here, we delve deeper into social proof and how you can integrate it properly on your social marketing strategies.
Testimonials from customers
Testimonials are cherry-picked positive responses from customers who usually have great experiences with the business.
Reviews
Reviews are testimonials' cousin gathered from third-party applications, without the ability of the business to filter negative responses. They're more open and honest as this feedbacks came directly from purchasing customers without the business to withhold their sentiments. Examples of review sites include Facebook, Google Reviews, Trip Advisor, and Amazon.
Do you have customers whereby their lives changed when they availed your products or services? Case studies are a data-driven analysis of how much your offers affect your customers.
Company logos from well-known brands
If you serve huge local businesses, include them in your roster of clients and link back to their site. You can even showcase to customers what you did to help them in their times of need. If you've been featured in a local media outlet, you can link back to that site as well.
Add research and statistics of your industry
Adding a specific number as social proof from a reliable source can help generate trustworthiness.
Add the numbers
By including the number of social media followers or the total number of buyers, you get to turn the heads of other prospects interested in your product.
Endorsement from experts and celebrities
Endorsements from popular people are called influence marketing. People channel on their "influence" and call on followers to buy your products.
6. Build networks
How good are you with other people? In a business, communication, relationships, and networking are important. Conveying messages to your stakeholders brings your vision to life and helps you achieve your business goals.
Grow a network of partners, opportunities, or prospective employees. Expanding your business to these individuals who are interested to transact and uplift your business visions to new heights.
Events are opportunities for people to network. Networking is a good way to make beneficial connections with people from your industry, e.g. company and supplier. That way, you can leverage each other's knowledge and build channels and solutions for your products, customer services, and internal operations.
7. Build loyalty marketing
Learn how to keep customers bustling in your business with our loyalty marketing ideas. What keeps your customers happy and engaged to transact with your business? Encouraging your consumers to repeat business is a powerful way to grow your brand through loyalty marketing.
Looking for loyalty marketing ideas that would keep your customers on their toes for their next big purchase? You have to match the benefits, programs, or products your consumers would expect from your brand.
VIP perks
A VIP club for businesses creates a sense of exclusivity with benefits only special customers can avail of.
1. Access to a premium area or room in the business
2. Access to new products or features
3. Special passes to events and gatherings
4. Get special deals
5. Free products, services, or offers
6. Seamless checkout, wrapping, etc.
Punch cards
The more punches a consumer collects, the greater the chances of earning a freebie, merchandise, or discounts.
In-store gifts for repeating customers
You can provide limited editions of a product for previous purchasing customers. For instance, digital services and products make use of email marketing to contact customers to avail of their limited editions. You can tailor your in-store gifts by seasons to ramp up purchases. E.g. Valentine's Day, Christmas Season, Year-End Special, New Year deals, and more.
Birthday, anniversary, or event perks
If you have an email and info database of your purchasing customers (with consent!), use this data to send events passes or greetings.
Build a community for customers
Encourage customer-to-customer interaction upon building a Facebook group, forum, or web portal interaction. Customers get to communicate with other people having the same experience as theirs and can delve deeper into the topic they want to ask and discuss.